Nuclear powered refineries can use seawater to make net zero synfuels, ending electric vehicle rationale.
Synthesizing fuels with carbon from seawater CO2 and energy from nuclear power will let our US economy continue to use vehicles powered by gasoline and diesel combustion engines, but with net zero CO2 emissions.
The nuclear industry has the solutions to assist end-users - from the shipping industry to data centres - in reducing their carbon emissions and meeting their decarbonisation goals, panellists at World Nuclear Symposium 2023 said.
The White House, June 8, 2023
Today the United States and the United Kingdom are announcing the Atlantic Declaration for a Twenty-First Century U.S.-UK Economic Partnership to ensure that our unique alliance is adapted, reinforced, and reimagined for the challenges of this moment.
One of many Joint Actions will concern nuclear power cooperation.
Launching a Civil Nuclear Partnership. Building on our unique economic and security relationship, and recognizing our complementary capabilities, we are launching a civil nuclear partnership overseen by senior officials in both governments. The JAG will also be mobilized to set near-term priorities for joint action to encourage the establishment of new infrastructure and end-to-end fuel cycle capabilities by 2030 in both continents, and substantially minimize reliance on Russian fuel, supplies, and services. Our joint activity and leadership will support and facilitate the safe, secure, and sustainable international deployment of advanced, peaceful nuclear technologies, including small modular reactors, in accordance with the highest non-proliferation standards and consistent with a 1.5-degree Celsius limit on global warming. These priorities will form the basis of a Joint Standing Committee on Nuclear Energy Cooperation (JSCNEC), which is designed to deliver on shared commitments by the end of the year and serve as an enduring bilateral forum to advance shared policy goals across existing engagement mechanisms, including near-term actions identified through the JAG, and facilitate exchanges on new and evolving technical and policy developments regarding nuclear energy.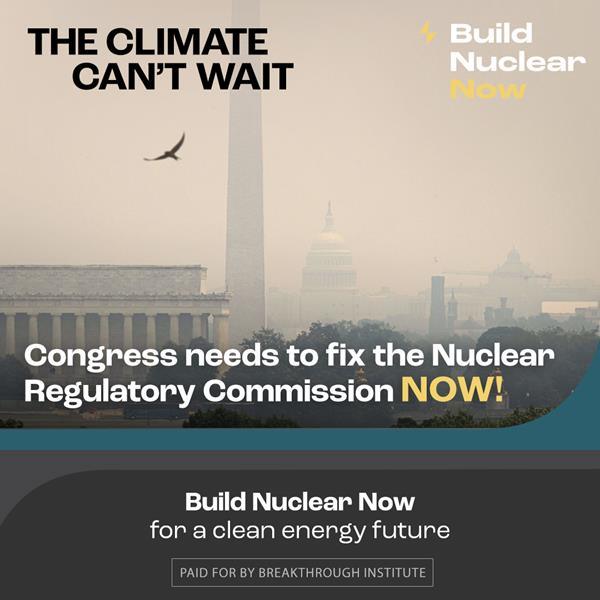 Build Nuclear Now calls for Congress to amend the mission of the Nuclear Regulatory Commission to recognize the value of nuclear energy as a critical technology for addressing climate change, reducing pollution, and enabling U.S. energy security.
We Need an NRC That Not Just Gets Out of the Way, But Leads.
The Breakthrough Institute has long pointed to the Nuclear Regulatory Commission's inefficiency as a barrier to advanced reactors and a heavy burden for the plants that are running today. But now the old-line nuclear establishment is saying so, too.
Click here to read the article.
With nearly a quarter of the U.S. coal-fired fleet scheduled to retire by 2029, replacing retiring coal power plants with advanced nuclear, specifically small modular reactors (SMR), has been put forth as a strategy to maintain local employment and economic opportunities for existing energy workers and communities, while simultaneously pursuing national climate goals. The Nuclear Regulatory Commission's (NRC) recent and groundbreaking certification of the country's first SMR design pushes the technology closer to maturity. As SMRs shift toward commercial deployment, identifying the existing opportunities and hurdles is vital to create a pathway for future coal-to-nuclear transition projects.